ABERDEEN ART FAIR
AAF RETURNS TO THE ABERDEEN MUSIC HALL FOLLOWING ITS £9 MILLION POUND REVAMP
ABERDEENS FREE ART FAIR – FREE ADMISSION FOR ADULTS ON FRIDAY EVENING AND ALL DAY SATURDAY AND SUNDAY

The Aberdeen Art Fair in association with TAQA celebrates its ninth year with a return to the Aberdeen Music Hall following its three year closure and £9 million pound transformation. Extensive work on the 200 year old iconic city centre building includes new and larger exhibition space, a new café bar, restaurant space, improved access, a superb new entrance area and much more.
And the organisers are delighted to announce that as part of the celebrations, and for the first time ever in the events history, admission to the art fair will be free of charge for adults and children.
The AAF aims to be an Arts for All event with something for every taste space and budget with prices from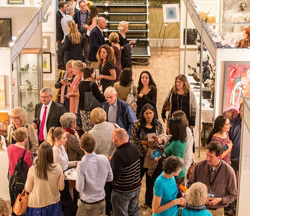 £50 to over £20,000. With a superb range of art galleries and creatives from across Scotland and the UK exhibiting work that includes paintings, drawings, prints, photography, sculpture, art glass, designer furniture and much more.
FREE CHILDRENS ARTS CLUB (Saturday and Sunday only)
COMPLIMENTARY WRAPPING SERVICE
CAFE BAR
A GREAT OPPORTUNITY TO VIEW AND INVEST IN EMERGING AND ESTABLISHED ARTISTS
Highlights for the 2019 event include works by Tracey Emin, Gerard Burns, Frances Walker, J Bellany CBE RA, Peter Howson, Sir Peter Blake, Catriona Miller, Ron Lawson, Barry Laden MBE, Ade Adesina, RSA, Walter Lindner and many many more (subject to availability).
Many new exhibitors and artists unveiling fresh new work in the North-East for the first time.
This annual event opens on Friday 30th August from 6pm-9pm Saturday 10am -5.30pm and Sunday 10am -5pm and don't forget ADMISSION IS FREE